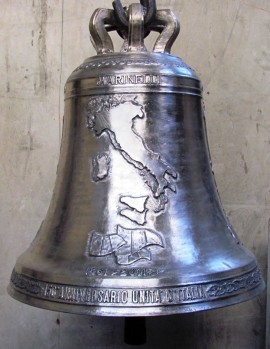 For the celebrations of the 150 years of the Unification of Italy also the Marinelli Foundry in Agnone has thought of a contribution
The 20th of December 2010 was fused a bell that wants to be the prototype of a more ambitious monumental work to be placed in a very significant place in the capital of which keeps the reserve. As long ago as 1961, the previous owners of the Pontifical Bell Foundry, Pasquale and Ettore Marinelli, had commemorated the centenary of the Unity with a bell dedicated to Italy which bore in relief the sacred symbol of the flag and portraits of its protagonists: Mazzini and Garibaldi, Cavour and Vittorio Emanuele.
Today, after 50 years, Armando and Pasquale Marinelli have understood to adorn the new bell of 50cm diameter and weighing about 100 kg with symbolic elements and memorials, and of course with the logo of the Republic and of the institutional Event.
The bell, despite being the first work exclusively dedicated to the 150th anniversary of the Unification of Italy, is not the only initiative in the former workshop of Agnone. A large statue of Giuseppe Garibaldi was placed in a large town in Campania and a bell-monument, also celebrating the historic event, has already been inaugurated in the town of Formia (LT)